Profile

sexyspybat
: This account is a roleplaying account.
Grant Access
Subscribe
Track Account

Rouge the Bat
blink and you'll miss me
This journal should be viewed with discretion.
Premium Paid Account
Created on 2015-06-25 21:55:58 (#2419383), last updated 2017-08-04 (6 weeks ago)
1 comment received, 273 comments posted
10 Journal Entries, 10 Tags, 3 Memories, 173 Icons

About

Mini Bio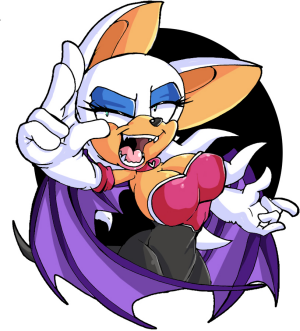 Name:
Rouge the Bat
Age:
18
Occupation:
Thief, Security Guard, Hacker
Likes:
Precious jewels, attention, flirting, treasure hunting, obtaining dirt on anyone she wants, spying on the unsuspecting, suckers, Knuckles.
Dislikes:
Thieves that steal HER jewels, feeling helpless, looking helpless, losing in a fight, spinach, weaklings.
Rouge the Bat is played by
lunayoshi
for

smashacademy
and

empatheias
. Artwork of Rouge by Becky the Hedgehog
[link broken; acct closed]
.

Connect

People
[View Entries]

Communities
[View entries]

Member Of (10):

Subscriptions (11):
dw_maintenance
,
dw_news
,
smash_creative
,
smash_logs
,
smash_network
,
smash_ooc
,
smash_random
,
smashacademy
,
smashrising
,
windupmusebox
,
youre_smashing

Administrator Of (0)

Feeds
[View Entries]

Subscriptions (0)

Linking
To link to this user, copy this code:
On Dreamwidth:
Elsewhere: